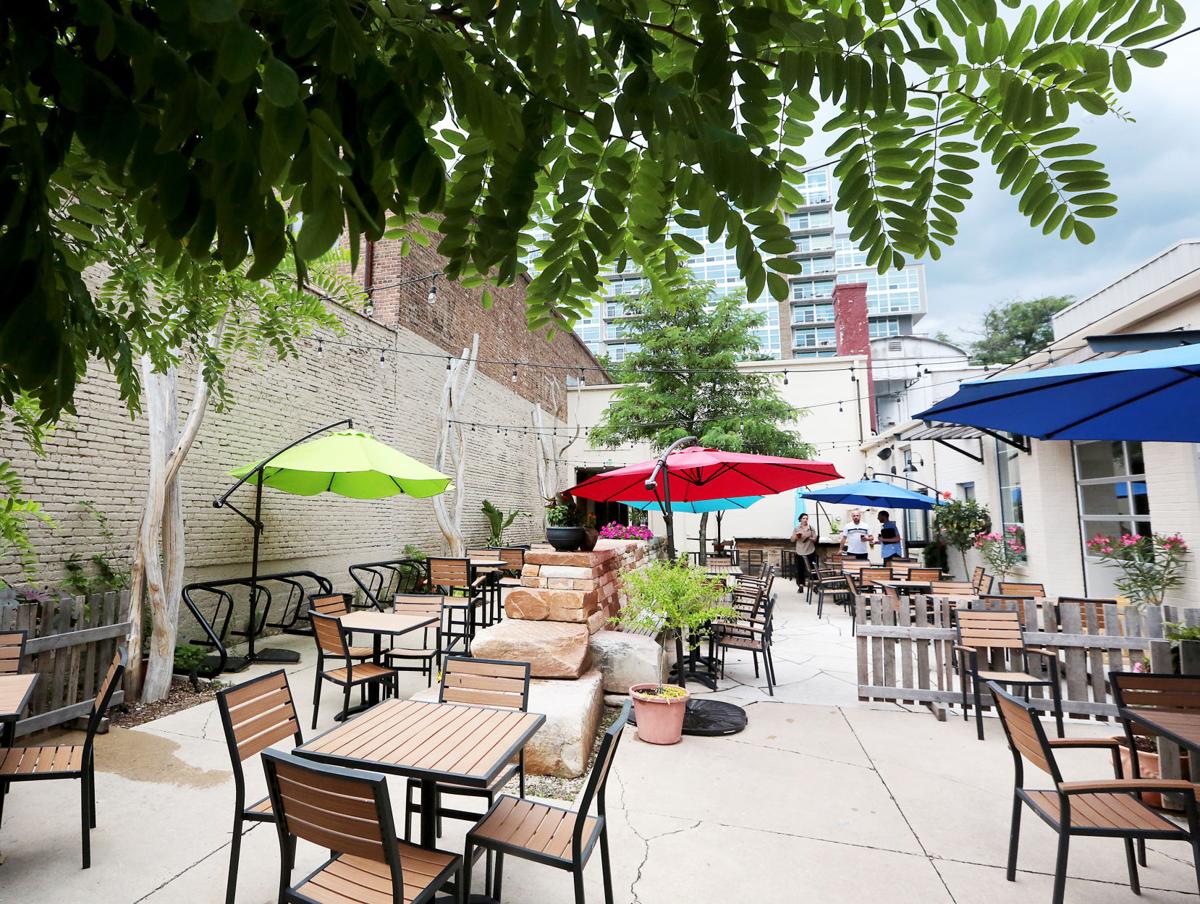 Downtowners Happy Hour at Robinia Courtyard
We hope you will join us for Happy Hour at Robinia Courtyard. We will be celebrating National Great Poetry Reading Day in our poetry corner. Watch for more details. It is also National Superhero Day. Be a Downtown hero and come support a great downtown Madison business with friends old and new. All are welcome and encouraged to join us.
(Downtowners follow all Dane County Public Health orders and ask participants to wear their mask and follow social distancing guidelines are our events. Thank you)!
This event is Free to attend, but you must sign up on Eventbrite as capacity is limited due to ongoing COVID safety protocol. All are welcome to attend!
Madison Poet Laureate Angie Trudell Vasquez
Angie Trudell Vasquez is a Mexican-American writer and the current poet laureate of Madison. She holds an MFA in poetry from the Institute of American Indian Arts. Finishing Line Press published her third collection of poetry, In Light, Always Light, in 2019, and recently accepted her fourth collection, My People Redux, for publication in 2022. Her poems have appeared in the Yellow Medicine Review, The Slow Down, the Raven Chronicles, The Rumpus, on the Poetry Foundation's website, and elsewhere. Her website is angietrudellvasquez.com and her small press is artnightbooks.com which has a social justice focus.
Featured Poet Charles Payne
Charles Payne, M. Ed is a Madison transplant, a certified teacher, and a self-taught spoken word artist from Michigan. His work explores personal narrative and social commentary. He is the firstborn of a strict father and naïve mother. As a child, he loved hearing the sound of Paul Harvey's voice, whose innate ability to describe every intricate detail truly inspired Charles to tell stories himself. Charles has recorded a TEDx talk with St. Edward's University (Texas), performed at the 3rd annual Madison Moth Grandslam (Wisconsin), the National Poetry Slam (North Carolina), and Individual World Poetry Slam (Washington), other showcases across the country along with being the Inaugural Art + Literature Laboratory All Originals Prize Winner https://artlitlab.org/all-review/all-originals-prize-winner-charles-payne.  And yes, he can't wait to give you the rest of the story.
Featured Poet Katrin Talbot
 Australian-born Katrin is a poet, photographer, and violist, based in Madison, Wisconsin. This combination of lives makes for interesting days, and she wears many hats, including a swim cap daily.Her poetry has landed in five chapbooks and many anthologies and journals. Her collaborative poetry ranges from menu/music/poetry, art installations, museum programs, maple syrup labels, theatre performances and trombone recitals. Katrin Talbot's collection The Blind Lifeguard was recently released by Finishing Line Press. She has four other chapbooks, including noun'd, verb and The Little Red Poem, from dancing girl press, Freeze-Dried Love from Finishing Line Press, and St. Cecilia's Daze, published by Parallel Press. She has recently been nominated for two Pushcart Prizes in Poetry and was voted Madison Magazine's Best of 2015 Spoken Word Artist/Poet. She runs the Bridge Poetry Series in collaboration with the Chazen Museum of Art in which poets respond to traveling exhibits. She once received prize money from a national poetry contest to fund a Dairy Queen run. So much of our lives can be poems, and she is always armed with a pencil.
Featured Poet Richard Merelman
 Richard Merelman, a native of Washington, D. C., is Professor (Emeritus) of Political Science at the University of Wisconsin, Madison. The Imaginary Baritone (Fireweed Press), his first book of poems appeared in 2012. In 2016, Finishing Line Press published his chapbook The Unnamed Continent. In 2017, Bent Paddle Press published his Sensorium, another chapbook. He has published individual poems in journals, such as Main Street Rag, Lake Effect, Stoneboat, and Measure. He and his wife, Sally Hutchison, live in Madison, WI.