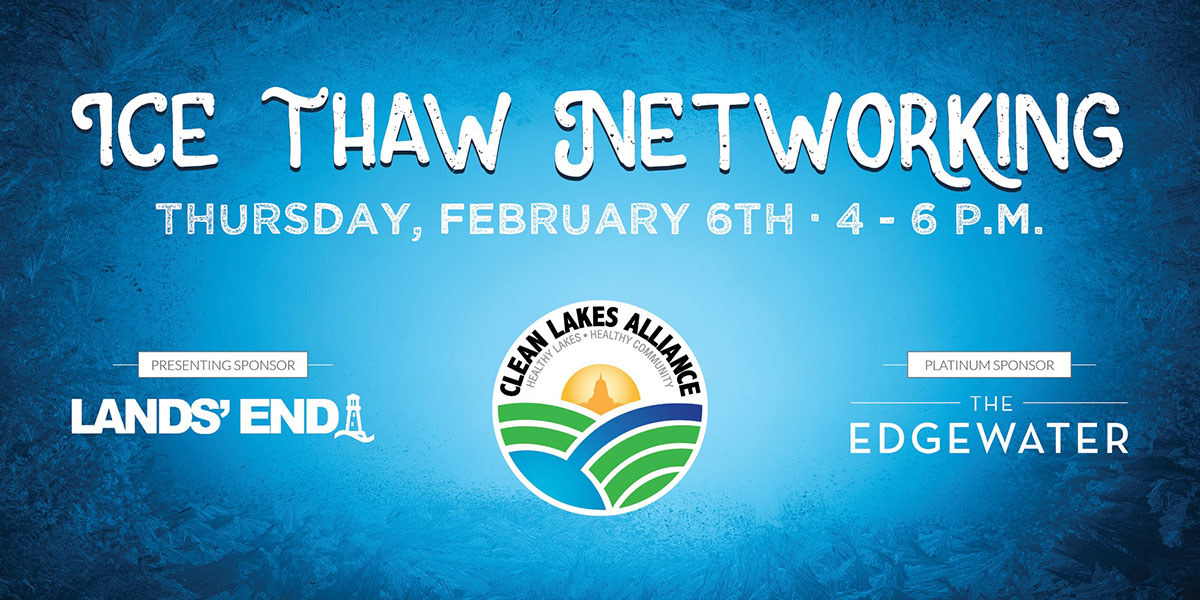 Ice Thaw Networking
Swing by after work for networking, taco specials, and tequila tasting with Clean Lakes Alliance! Come together to connect with our community of lake supporters and learn how you can get involved. All registered guests will receive a complimentary beverage.
EVENT DETAILS
This free event is held at The Edgewater. Join us from 4 – 6 p.m. and receive a complimentary beverage. Registration is required for all attendees. $5 event parking will be available in The Edgewater parking lot.
The event will take place in the Nolen Gallery, which is on Level 5, right outside the Grand Ballroom (same level as ice rink)
Ice skating will be open to the public that evening with normal rink fee and skate rental fees
People are welcome to stay later than 6! If people are still in the Nolen Gallery, I'm sure bar staff will stay. Otherwise, The Edgewater will have all bars and restaurants open that evening as well.
The taco tasting will be the only food at the networking event. People wishing to order more can use one of The Edgewater restaurants (Boathouse, Statehouse, or Icehouse)
There will be a full bar available at the networking event
NETWORKING PARTNERS
We are excited to partner with Capitol Neighborhoods, Inc., Downtown Madison, Inc., Madison Downtowners, and Madison Magnet on this event.
FROZEN ASSETS FESTIVAL
This networking event is part of Clean Lakes Alliance's week-long Frozen Assets events. Every year, Frozen Assets raises the profile of our lakes as one of our community's greatest assets. Since 2011, Frozen Assets has raised more than $1.1 million for our lakes.
Learn more at cleanlakesalliance.org/frozen-assets
THANK YOU SPONSORS
Frozen Assets evening events are made possible with support from our presenting sponsor Lands' End, platinum sponsor The Edgewater Madison, and major sponsors Alliant Energy, American Transmission Company, CG Schmidt, Inc., Hovde Properties, Madison Gas and Electric, National Guardian Life Insurance Company, and William Thomas Jewelers.